Feed grade DCP is extensively applied in improving hybridization rate, pregnant rate and survive rate, enhancing livestock
the capability of anti-plague and anti-disease, avoiding rickets, paralysis, diarrhea and soft shell, preventing pig,chicken from
disordering feeding, helping growth,increasing the output of egg and meat.
[Function]
As as supplement phosphorus and calcium element in livestock feed ,is a kind of
nutrition supplements is usually used in animals such as cows,chicken,sheep,which can be easily digested and absorbed to
improve the output ,to increase the amount of meat, milk, egg production;treatment of rickets, cartilage disease, etc;
Granular products is more applicable to the preparation hens, ducks feed, concentrate feed and premix.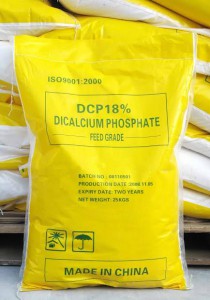 [Specification]
Product Name
DCP 18%

(Dicalcium Phosphate 18%)

P
18%Min
Ca
20%Min
Particle Size

For Powder

95%Min

(Beneath 40 mesh sieve)

Particle Size

For Granular

95%Min

(10-60 mesh sieve)

F
0.18%Max
As
0.002%Max
Pb
0.002%Max
Moisture
4.00%Max
Appearance
White or Grey powder and granular
Packing
Normally in 25 kg per bag
Shelf Life
24 months
Storage
Kept in a cool dry place and avoid direct sunlight.