Betaine Hcl Betaine Hydrochloride 98% Feed Grade animal Feed Additive
English name:Carboxymethy
trimethylammonium            hydrochloride
Cas NO:590-46-5
Purity:>98.0%
Grade:GR
MDL No.:MFCD00011903
Structure formula:
Specifications
Index
Standard
Test Result
Appearance
White crystal, no smell, sweet, hard deliquescence;

soluble in water,neutral aqueous solution

Conforms
Assay
≥98.0%
98.68%
Loss on drying
≤1.0%
0.63%
Heavy metal (as PB)
≤0.002%
0.0017%
Assay of Arsenic(as AS)
≤0.0001%
0.000085%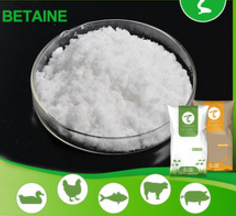 Feeding stimulaton
Betaine, with its fragile flavor, can promote the odor and taste receptors of fish and shrimp, as well as is optimal phagostimulant for marine pet. Betaine could boost feed's delicious taste, advertise consumption, shorten ingestion time, boost feed application price and decrease water contamination.
Save methionine to reduce feed prices
Betaine, methionine and choline are 3 sort of primary methyl contributors, and also play an essential duty in methylate response. Regarding the feature of giving methyl, betaine can partially change methionine to cut feed cost.
Regulate osmotic pressure to keep cell water balance
When an exterior osmotic stress generates convulsion, body cells could perform self policy or soak up betaine from the outdoors to prevent water loss and also salt entry, support enzyme task as well as biomacromolecule, further, regulate osmotic stress and also ionic equilibrium as well as preserve regular nutrient absorption and also physical health and wellness.
Improve meat quality
Betaine could dramatically decrease back fat thickness of hogs as well as the abdomen fat rate of poultry, boost lean meat percentage and also pectoral muscle return, and improve meat high quality; minimize fat web content in pets' livers as well as prevent fatty liver of fowl as well as water animal. \
standard content: Betaine hydrochloride not much less compared to 98.0%, not more than 100.5%; feed-grade betaine hydrochloride residue on ignition not greater than 1%; pharmaceutical grade betaine hydrochloride residue on ignition not more than 0.2%, loss on drying out is not high at 0.5%; hefty steel is not higher than 10PPM.