Function:
Soybean meal is soybean oil by pressing or solvent extraction, then after appropriate heat treatment and dry products.Soybean meal is the effect of plant protein feed.
Soybean meal contains a variety of amino acids and high protein for poultry and swine nutrition needs.
The case of animal protein, only the amino acids contained in soybean meal is enough to balance the poultry and pig nutrition, and to promote livestock nutrient absorption. Soybean meal has become the other comparison of the baseline product protein sources.
Soybeans remain a favorite topic among nutritionists, but we often take them for granted, not unlike the case of corn or wheat. But, given that they make up together over 90 percent of most diets for poultry and pigs, it is high time we start paying more attention to what experts are thinking about the future of our most precious raw materials.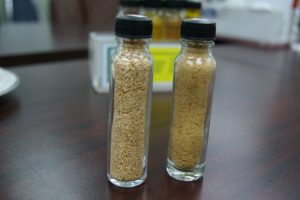 Most nutritionists distinguish soybean meal based on its crude protein concentration: 44 or 48 percent, and anything in between. Few of us take into account the origin of our soybean, not only because it is often difficult to know, but also because we assume that soybean meals from different sources can be used interchangeably.
Soybean Meal is widely demanded as an animal feed due to its rich nutritional content. We use the best quality Soybean to obtain high protein Soybean Meal which can be used as animal diets, poultry feed, cattle feed and fish feed. Soybean Meal is available in varied quantity packs as requested by the buyer.
In dairy cattle feeding process, the delicious taste and easy digestion of soybean meal can increase the milk. In the beef cattle feeding, soybean meal is one of the most important oilseed meal.
Soybean meal are also used for pet food . In recent years, soybean meal has also been widely used in aquaculture.
Soybean meal contained more amino acids of amino acids can fully meet the special needs of fish.
1-Specification:
| | |
| --- | --- |
| MOISTURE | 12% MAX |
| CRUDE PROTEIN | 43% MIN |
| FAT | 2% MAX |
| FIBER |  7.0% MAX |
| TOTAL ASH | 6.0% MAX |
| ACIB | NEGATIVE |
| TVN | 50 MAX |
| TOTAL COUNT MOULD | 5 X 105 |
| ECOIL | NEGATIVE |
| SALMONELLA | NEGATIVE |
| AFLATOXIN | 20PPB MAX |
| BROKEN PELLETS AND OR MEAL | 80% MAX |
Such an example is the incorporation of enzymes like proteases that can potentially increase protein digestibility and/or reduce anti-nutritional factors — most of which are proteins. Another example is that of non-starch polysaccharides (NSPs) enzymes, which are currently geared towards breaking down NSPs found in cereals. Similar, but not the same, NSPs in soybeans are not attacked by present NSP enzymes with the same vigor, and, as such, finding soybean NSP enzymes can become a priority in the near future.
Soybean meal contains anti-nutritional factors that cause problems such as lower performance and higher mortality. A select phytogenic feed additive and an effective mycotoxin deactivator can help producers get the most from soybean meal.
Yet, not all soybeans are created equal, and not all soybean-processing methods are the same. It basically has to do with the variety of soybeans used (and its concentration in anti-nutritional factors, and also with the process of oil extraction that affects protein digestibility.
Better feed conversion
The main benefit of a select phytogenic with a documented mode of action is better feed conversion. Phytogenics, by delivering feed efficiency gains, constitute one tool to replace antibiotic growth promoters (AGPs). Looking across 14 broiler trials performed in various countries worldwide and testing both AGPs and a select phytogenic feed additive at a variety of production stages, each PFA group performed similar on average in terms of feed conversion ratio (FCR) compared to the AGP group. The feed conversion ratio (FCR) showed an average improvement of 0.05 in the phytogenic supplemented group versus the AGP (control) group (Figure 1).
Genetic improvement by modifying composition. Instead of breaking down NSPs in soybeans, there is an effort to eliminate or simply reduce them, but at the expense of which nutrients? After all, soybeans contain NSPs for some reason, and upsetting the balance can bring about unforeseen results. But it is worth exploring. Such direction could be increasing oleic acid in soybeans; this is one of the major lipids in olive oil, and in this manner, we could improve the health benefits of soy oil, not only for humans, but also for animals that consume soybean meal with residual oil unavoidably present as always.